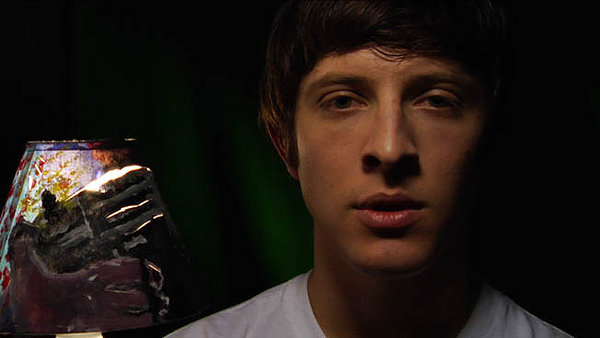 [featured in the American Association of Suicidology Student Newsletter, December 2011] The recently released mockumentary, Archie's Final Project, opens with an upside-down home-recorded image of a sun-drenched suburban ranch house. Enter Archie, also upside-down, holding the opening titles on placards that are right side up. This scene sets the pace for the whole film: the world may be chaotic, but the message is clear, so listen.
The 2009 film, originally titled My Suicide, follows a teenage Archibald Williams as he documents his unpredictable relationship with teen suicide. The journey begins when he declares to his film class that he plans to kill himself on camera for his final project. After his bold statement chaos ensues and the typical suicide intervention protocol follows suit—removal from school, mandatory counseling, and eventually prescription drugs. Archie's public cry-for-help opens the conversation about suicide among his peers and his unfolding documentary records the variety of ways in which suicide affects every teenager individually.
All of this is presented through Archie's lens—both figuratively and literally. Much of the film is Archie's footage and the erratic style mimics the random ebb and flow of adolescence. The adult figures are portrayed as insensitive and dense—a guidance counselor unconvincingly recites a standard intervention strategy to Archie and hands him a lollypop. In contrast, the kids are emotional, impulsive, and convinced the authority figures have little clue as to the scope of the problem. The dichotomy between these two groups is visceral, and in many cases, true. While the film mocks some tried and true suicide prevention efforts—including an interview clip of the late Edwin Shneidman reciting the famous "suicide is a permanent solution to a temporary problem"—it does so with a mission. The filmmakers have clearly done their research and what results is a message illuminating the tough reality that a monumental chasm often separates adolescence and everything that comes after.
In essence, this film is about connection. We see Archie transform and start to heal as he connects with people through his project—his peers, a depressed love interest, a frank psychologist who shares Archie's fondness for film history, and a long-time artistic hero. He claims a few times throughout the film that the camera is his only friend, but the camera is the vehicle that hooks him up to the outside world; the project that threatened to end his life actually ends up saving it.
AFP has had a slow but steady influence. The film has spent the past couple years independently touring the festival circuit and picking up awards all over the world. After a recent U.S. tour AMC picked the film for distribution, which led to the December 6th DVD release, but the film's greatest presence has been online. AFP has infiltrated suicide prevention within social media venues. The revolution began with a Miami teenager who posted a video on the film's facebook page declaring he was an "Archie." A slew of similar videos followed and marked the beginning of the IamAnArchie campaign, in which teenagers are encouraged to join the effort and share their own experiences and feelings through videos, photos, and testimonials posted on social websites like Facebook and Twitter.
Similar social media efforts like the Trevor Project and Postsecret are part of a new wave of virtual youth suicide prevention focused on connecting teenagers not only with support services, but also with other teenagers. What is unique to these programs is that kids are able to commiserate with other kids around the world experiencing similar feelings and struggles. The internet allows them to communicate on their own terms, and the social venues provide an infrastructure mediated by the larger organizations, linking kids to a bigger movement outside of themselves. Being an "Archie" means being part of a reciprocal message—putting yourself out there and realizing you are not alone.